Greetings keyboards friends!


Arranger Keyboards and Chord Formulas
Greetings piano fans.
Once again , thank you for your interest in these free online lessons. I sincerely hope that you are experiencing all the great benefits learning to play keyboards has to offer.
I really appreciate each and everyone of you who take the time to contact me and offer suggestions for lessons. I really wish I could be there in person to help with everyone's goals when it comes to learning to play keyboards.
It's hard to know where everyone is in their learning curve and your communications help me greatly.
A personal note
Hope you are all well and still excited as I am about making music!.
As I mentioned in the last issue I recently was blessed with a new Korg PA3x pro arranger keyboard and I am really stoked to get into it and share the information with my readers.
I want to start off by saying that I have been playing professionally, teaching, and selling arranger keyboards for longer than I can remember.
I find them ideal for quite a few reasons which I will go into in some detail so you may be better able to decide for yourself if an arranger is right for you.
As many of my readers own this category of keyboard I will be doing some great lessons on how to make the most of the common features that all arranger keyboards have such as variations, fill-ins, intros and endings and using the right styles.
In short we will be getting into the nuts and bolts of sounding great on your instrument!!
You can find the introduction article on arranger keyboards below:
---
For Beginners Only
If you are just sitting down at the keyboard for the first time you will want to check out this first adult beginner lesson.
It covers sitting at the piano, hand position, basic fingering and you will even learn 7 important chords that will have you making music quickly.
Click the link below to begin.
Arranger Keyboards
I just posted a new article on some reasons why you might want to consider an arranger keyboard if you don't already own one.
If you are considering the purchase of an arranger keyboard or would like to find out more about what makes an these keyboards unique than I know you will find this article very helpful.
Arranger vs. Workstation What is the difference?
The single biggest difference between an arranger keyboard and a workstation is the presence of a variety usable musical styles that can be accessed and played using basic a knowledge of chords.
Click the link below for the rest of the article....
---
Simple formulas help you find any keyboard chords
In this free keyboard chords theory lesson you will learn simple formulas to help you find absolutely any chord on the piano keyboard without having to rely on bulky chord charts or written music.
Understanding these keyboard chord formulas will make a big difference in your ability to enjoy making music on piano or electronic keyboard. To get started click the link below.
---
From my worship set.. Piano Songs "How Great Thou Art"
In this Piano Songs lesson we will learn this beloved spiritual classic song "How Great Thou Art". This lesson will re-enforce knowledge of the I-IV and V chords in common progressions, and the basics of voice leading between chords.
"How Great Thou Art" is a Christian hymn based on a Swedish poem written by Carl Gustav Boberg (1859–1940) in Sweden in 1885.
The melody is derived from a Swedish folk song and was translated into English by British missionary Stuart K. Hine. who also added an additional two verses to the song.
It was popularized by George Beverly Shea and Cliff Barrows during the Billy Graham crusades.
"How Great Thou Art" was ranked second (after "Amazing Grace") on a list of the favorite hymns of all time in a survey by Today's Christian magazine in 2001.
Learn to play How Great Thou Art
---
Best Gospel Course for Ear players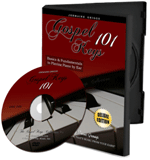 Introducing GospelKeys 101...
Now In Less Than 2 Hours, You Can Jump Start Your Piano Playing With These 3 Easy Steps!
---
Dear Friend,

Jermaine Griggs, the pioneer of the award-winning GospelKeys learning system, has come up with 3 simple steps so that you won't waste any time at all. In fact, it'll virtually cut your learning time in half! I copied and pasted the most important parts below so you can get a general idea.

HERE IT GOES...

Step One: Determining the Melody

Step Two: Harmonizing the Melody

Step Three: Adding the Bass


These three steps are not super complicated theories that require several years of experience. In fact, they were designed for the total beginner with absolutely no musical experience.

What most people don't understand is that most songs follow patterns. If you've been mistakenly learning songs, one by one, you're only exercising your ability to MEMORIZE chords --- and
that's exactly why it takes SO LONG to learn just one song.

BUT...

If you concentrate on LEARNING PATTERNS, you'll never go wrong because songs are built on repeating patterns. You should NEVER EVER have to memorize dozens of songs when they all share the same exact CHORDS, PROGRESSIONS, AND PATTERNS.

So head over to their site and let me know what you think

If you have any questions, feel free to reply.

Talk soon,




P.S. - You might find more interesting information, techniques, or resources just by clicking around on their website..


I want to remind you that many of the ideas for lessons come from those of you who contact me with questions. I encourage you to let me know what you need.

Also you can find a contact form on the site and suggest a song for a future lesson. Don't be shy. Let me know how i can help!!

I am grateful for all of you, and wish you the best success in your playing!!

Thanks, Greg