Hello Friends!


Learning Piano Chords
Greetings friends and fellow musicians!!
Hello to all my Keyboard Friends!
Thank you for visiting you Personal Piano Professor Website!
In this free lesson on major chords you will learn simple formulas to locate and find all twelve major chords on the piano keyboard.
The lesson will also focus on exercises and tricks to help you develop the understanding and dexterity to turn the knowledge into beautiful music.
At the end of the article you will find 11 links to more lessons on chords and chords progressions. Enough to keep you busy for weeks!!!
To get the most benefit you will need to be seated at your keyboard. If you don't have one, what are you waiting for?!!
To see the entire lesson, click the link below

---
Want to get serious about your progress?,
If you are interested in taking your piano playing to the next level, I think I may have struck the right chord for you. Just last week, I was contacted by my friends over at HearandPlay.com who specialize in teaching people how to play piano by ear.
Jermaine Griggs, the President of HearandPlay, just let me know that his site had recently been updated with a few new piano resources...
When I finally checked it out (because I was very busy last week), I noticed one particular article that discusses the differences between musicians who play piano from sheet music and others who play by ear --- some of the advantages and disadvantages of both.
The article focuses more on the advantages of playing by ear --- obviously because that's their specialty. Here are just a few of the many examples of what they said (you'll have to check out the article for yourself to get the full story):
Advantages of Playing Piano By Ear
1) "Being able to instantly recognize chords that are played in songs even without being at a piano."
************************* How does this help you? *************************
"You are able to learn songs faster and easier because you understand why chords are played at certain points in songs."
2) "Not required to memorize chord progressions (pattern of chords played one after the other) because understanding them will automatically incline you to know what chord to play next."
************************* How does this help you? *************************
"Allows you to improvise and add your own "flavor" to the song. This is especially advantageous when playing in a church as you can never predict how long a song will be sung or what key the singer might resolve to. In a band, this might be helpful if the leader simply instructs everyone to surprisingly repeat a part of the song or change the key in which the song is currently being played in."
3) "Will allow you to use the same methods to play virtually any song you want (most songs; don't quote me if you're referring to Mozart as this might take more practice than most other songs)."
************************* How does this help you? *************************
"Saves you the money and time of having to go out and buy the sheet music to a song that you've already learned how to play by using the ability of your ear to recognize melodies, chords, and progressions. However, buying the sheet music isn't a bad idea if you want to learn specific parts to songs that have high levels of complexity."
You know... I could really go on and on about this article, but due to the lack of space, I'm going to have to send you over there so you can check it out for yourself:
(...and if you're really serious about taking your piano playing to the next level, you might want to consider taking them up on their 300-pg course, "The Secrets to Playing Piano by Ear").
Meanwhile, let me know if you have any questions and I'll answer or pass them to the right folks at HearandPlay.com.
Again, go to: Hear and Play.com
---
Amazing Grace
As promised, I have posted a lesson with an 8 minute video on how to play Amazing Grace on the piano.
It is estimated that this well loved American gospel song is performed over 10 million times each year.
After experiencing the grace and love of God, John Newton, a former slave trader was converted to Christianity and in 1772 penned the lyrics to this timeless classic hymn.
He wanted to deliver the message that forgiveness and redemption is possible regardless of the sins people commit and that the soul can be delivered from despair through the mercy of God.
To learn this timeless classic Gospel song click on the link below.
---
---
---
You Need to check out this software! Very cool!
Check out this awesome song learning software"
I've got to tell you I was truly impressed by this new software and you would do well to check out the worlds first internet powered song learning software. If you can find a song on Google or anywhere on the internet this software will teach you from beginning to end.
I have personally tried this and so have many of my more serious students. Its like having me there as a teacher 24/7..
Check this out for yourself by clicking the link below..
---
---
The major scale: The foundation of Chord Theory.
An understanding of music scales and the major scale in particular is one of the most important single concepts to understand as we continue to study the basic music theory required to get the most out of your experience playing piano or electronic keyboards.
To learn chords by memorizing each note or looking at pictures is like learning speak and foreign language with out understanding the meanings or context of the words.
By learning a few formulas starting with the formula for a Major scale you will not only speak the language of music but truly understand the how and why of chords and chord progressions.
---
Major Scales: the foundation to chord theory
---
---
---
Piano Improvisation starts here!
Have you ever thought: "How excellent would it be to sit at a piano and play any melody that comes into my mind – without any notes?"
Or: What do I do when my band wants me to take a Piano Solo?
Piano improvisation, is the art of spontaneously playing melodies on the piano at the spur of the moment.
You may think it is domain of few very creative, experienced, and gifted musicians and thus unreachable for hobbist musicians or beginners. However......
I believe if you read on and go through some of the suggestion contained in these lessons that you or anyone can begin to learn this awesome skill.
View the whole video lesson by clicking below.
---
---
---
---
Learn the 12 bar blues progression on piano."
Learning the 12 bar blues progression is basic to understanding the roots of American popular music.
When you see a group of musicians getting together to play everyone seems to know what to do almost magically.
This is because at one time or another they learned the 12 bar blues progression.
While there are lots of variations of this timeless progression the most common is a three chord 12 measure version explained in this lesson.
---
Dear Musician,

Have you always wanted to learn to play jazz & blues on the piano but never had the time or money?

Or couldn't find the right person or course to teach you the "real" stuff?

If so, I've definitely found someone who can help you.

I'm talking about James Wrubel, an amazing musician and expert instructor. He's been there and back as a professional jazz musician and has played with some of the top names in the industry.

In two dvds and over 2 hours of step-by-step instruction, he takes you by the hand and shows you how to master tons of jazz & blues tricks and techniques as well as signature soloing secrets that'll have you sounding like you've been playing for years.

Here's some highlights.

Discover: * How to quickly and easily form tons of chord patterns and runs that'll have you sounding pro almost overnight.

* How to accelerate your jazz learning curve by combining 3 secret elements pros don't want you to know!

* How to pack every chord and voicing with just the right amount of flavor to get the job done.

* 7 secrets to playing signature solos without hesitation or even thinking about anything.

* And much more.

Clink the link below to get started!!
Best Gospel Course for Ear players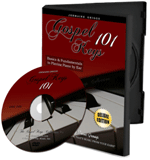 Introducing GospelKeys 101...
Now In Less Than 2 Hours, You Can Jump Start Your Piano Playing With These 3 Easy Steps!
---
Dear Friend,

Jermaine Griggs, the pioneer of the award-winning GospelKeys learning system, has come up with 3 simple steps so that you won't waste any time at all. In fact, it'll virtually cut your learning time in half! I copied and pasted the most important parts below so you can get a general idea.

HERE IT GOES...

Step One: Determining the Melody

Step Two: Harmonizing the Melody

Step Three: Adding the Bass


These three steps are not super complicated theories that require several years of experience. In fact, they were designed for the total beginner with absolutely no musical experience.

What most people don't understand is that most songs follow patterns. If you've been mistakenly learning songs, one by one, you're only exercising your ability to MEMORIZE chords --- and
that's exactly why it takes SO LONG to learn just one song.

BUT...

If you concentrate on LEARNING PATTERNS, you'll never go wrong because songs are built on repeating patterns. You should NEVER EVER have to memorize dozens of songs when they all share the same exact CHORDS, PROGRESSIONS, AND PATTERNS.

So head over to their site and let me know what you think

If you have any questions, feel free to reply.

Talk soon,




P.S. - You might find more interesting information, techniques, or resources just by clicking around on their website..


I want to remind you that many of the ideas for lessons come from those of you who contact me with questions. I encourage you to let me know what you need.

Also you can find a contact form on the site and suggest a song for a future lesson. Don't be shy. Let me know how i can help!!

I am grateful for all of you, and wish you the best success in your playing!!

Thanks, Greg