Greetings keyboard friends!


Two important lessons on Piano Chords
Greetings piano fans.
Once again , thank you for your interest in these free online lessons. I sincerely hope that you are experiencing all the great benefits learning to play keyboards has to offer.
A personal note
Why Learn Piano Chords?
When I first took piano lessons as a child I was taught in the old school traditional method of keeping my eyes on a page of music covered with black dots and strange musical symbols. I was taught to read music and play the piano the way one would learn to type.
The songs that were available to a beginner using this method were very simple and also very boring.
This method was a failure for me as I lost interest and found it easier to look at the keyboard rather than the written music.
Because I had a good ear for music I learned to play piano by ear and memorized what I heard.
Later as a young adult I decided I wanted to play popular music in a band and it was then I learned how important it was to understand piano chords.
---
Arranging on your Portable Keyboard
---
Hey, I wonder if you could do me a favor and visit and like my Face Book page for Personal Piano Professor. I am really trying to learn the whole social media thing. Perhaps you can help me...lol

Personal Piano Professor on Facebook
---
---
Slash Chords
Ever come a cross chords that look like this G7/B or C/E? They are sometimes called "slash chords".
If you come across slash chords in popular piano music it will usually indicate in what inversion a chord will be played.
It is indicated by a slash after the chord name and the letter name of the note that is to be played in the bass.
For more on these chords and how they are used in Billy Joels "Piano Man" click on the lesson link below
Gospel Piano
Learning Gospel piano is not much different than learning any other style of piano music in that you will need to learn the basic fundamentals of piano and apply them to the various styles of contemporary gospel and praise music.
I started my musical career over 40+ years ago and without the church I may have never grown to love music and playing and singing inspirational gospel and praise music.
During the week I played jazz, rock, soul, country and most other styles of popular music professionally but come Sunday morning I was always giving my best performances in Church.
There is something about praise music that just reaches out and touches the hearts of believers young and old.
For more on learning Gospel Piano click the lesson link below
---
Learn the 12 bar blues progression on piano."
Learning the 12 bar blues progression is basic to understanding the roots of American popular music.
When you see a group of musicians getting together to play everyone seems to know what to do almost magically.
This is because at one time or another they learned the 12 bar blues progression.
While there are lots of variations of this timeless progression the most common is a three chord 12 measure version explained in this lesson.
---
4 Steps to Learning How to Play Any Song on the Piano
1. Determining the melody - Melodies determine what chords will be played. If you can use your ear to figure out what notes are being played in the melody, you are 1/4 on your way to learning a song! More resources on learning how to determine melodies
2.Harmonizing the melody - Once you have figured out the melody (using some of my techniques on the resource page), it is time to harmonize it. This is simply choosing various chords to accompany the melody. There are several techniques and tricks to doing this. More resources on learning how to harmonize melodies
3. Altering Chords - This is the best part! Now that you have strategically figured out the melody to a song and have harmonized it, altering your chords to produce certain sounds is the next step. If you were playing gospel music, you would alter your chords differently than if you were playing classical or country music. More resources on altering chords
4. Listening - After you have determined the melody, harmonized the melody, and altered some of your chords, there are various techniques you can use to make sure that your song sounds right. More resources on listening techniques
I personally recommend "The Secrets to Playing Piano By Ear" 300-pg Course and through my relationship with Jermaine (the author of this course), I've been able to get him to throw in a few bonus items (3 additional piano software programs). He has taught literally thousands of musicians how to play the piano by ear. If you understood just half of what he discussed above, you'll definitely benefit from his 300-pg course. Click here to learn the secrets to playing absolutely any song on the piano in virtually minutes! I highly recommend it.
Learn Jazz Here!!
Best Gospel Course for Ear players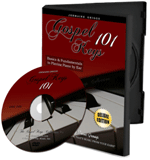 Introducing GospelKeys 101...
Now In Less Than 2 Hours, You Can Jump Start Your Piano Playing With These 3 Easy Steps!
---
Dear Friend,

Jermaine Griggs, the pioneer of the award-winning GospelKeys learning system, has come up with 3 simple steps so that you won't waste any time at all. In fact, it'll virtually cut your learning time in half! I copied and pasted the most important parts below so you can get a general idea.

HERE IT GOES...

Step One: Determining the Melody

Step Two: Harmonizing the Melody

Step Three: Adding the Bass


These three steps are not super complicated theories that require several years of experience. In fact, they were designed for the total beginner with absolutely no musical experience.

What most people don't understand is that most songs follow patterns. If you've been mistakenly learning songs, one by one, you're only exercising your ability to MEMORIZE chords --- and
that's exactly why it takes SO LONG to learn just one song.

BUT...

If you concentrate on LEARNING PATTERNS, you'll never go wrong because songs are built on repeating patterns. You should NEVER EVER have to memorize dozens of songs when they all share the same exact CHORDS, PROGRESSIONS, AND PATTERNS.

So head over to their site and let me know what you think

If you have any questions, feel free to reply.

Talk soon,




P.S. - You might find more interesting information, techniques, or resources just by clicking around on their website..


I want to remind you that many of the ideas for lessons come from those of you who contact me with questions. I encourage you to let me know what you need.

Also you can find a contact form on the site and suggest a song for a future lesson. Don't be shy. Let me know how i can help!!

I am grateful for all of you, and wish you the best success in your playing!!

Thanks, Greg