Hello again!!


Goin' Back to School
Hi every one.
Once again , thank you for your interest in these free online lessons. I sincerely hope that you are experiencing all the great benefits learning to play keyboards has to offer.
I really appreciate each and everyone of you who take the time to contact me and offer suggestions for lessons. I really wish I could be there in person to help with everyone's goals when it comes to learning to play keyboards.
It's hard to know where everyone is in their learning curve and your communications help me greatly.
Back to School....
Lots of people are thinking about going back to school this month. This made me think about how I might improve this lesson alert to help more of you progress in your keyboard studies.
Most visitors to piano lessons for life .com come in three flavors, beginners, intermediate, and more advanced so I am going to offer three lessons each time ass well as interesting articles and tip like always..
For Beginners Only
If you are just sitting down at the keyboard for the first time you will want to check out this first adult beginner lesson.
It covers sitting at the piano, hand position, basic fingering and you will even learn 7 important chords that will have you making music quickly.
Click the link below to begin.
---
Intermediate players...Chord Formulas
If you have been playing for a while but still run into chords that you don't know you may find this lesson very helpful. By learning a few formulas based on the major scales you will literally be able to find hundreds of chords without ever having to look at bulky chord charts or books.
To get started click the link below.
---
Advanced...Jazz Piano Improvisation
If you have an interest in learning to Improvise Jazz piano you need to check out this NEW lesson!
Using the Jazz Standard Song "There will never be another you" you will learn how to use chord tones, jazz scales, and chord substitutions to begin to understand how to improvise over jazz changes.
To begin click the link below
---
The Best Home Study Course for Learning Jazz Piano
Have you always wanted to learn to play jazz & blues on the piano but never had the time or money?
Or couldn't find the right person or course to teach you the "real" stuff?
If so, I've definitely found someone who can help you.
I'm talking about James Wrubel, an amazing musician and expert instructor. He's been there and back as a professional jazz musician and has played with some of the top names in the industry.
In two dvds and over 2 hours of step-by-step instruction, he takes you by the hand and shows you how to master tons of jazz & blues tricks and techniques as well as signature soloing secrets that'll have you sounding like you've been playing for years.
Here's some highlights.
Discover: * How to quickly and easily form tons of chord patterns and runs that'll have you sounding pro almost overnight.
* How to accelerate your jazz learning curve by combining 3 secret elements pros don't want you to know!
* How to pack every chord and voicing with just the right amount of flavor to get the job done.
* 7 secrets to playing signature solos without hesitation or even thinking about anything.
* And much more.
Check out the ink below for more information on this great program
Best Gospel Course for Ear players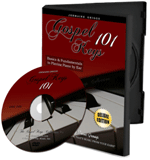 Introducing GospelKeys 101...
Now In Less Than 2 Hours, You Can Jump Start Your Piano Playing With These 3 Easy Steps!
---
Dear Friend,

Jermaine Griggs, the pioneer of the award-winning GospelKeys learning system, has come up with 3 simple steps so that you won't waste any time at all. In fact, it'll virtually cut your learning time in half! I copied and pasted the most important parts below so you can get a general idea.

HERE IT GOES...

Step One: Determining the Melody

Step Two: Harmonizing the Melody

Step Three: Adding the Bass


These three steps are not super complicated theories that require several years of experience. In fact, they were designed for the total beginner with absolutely no musical experience.

What most people don't understand is that most songs follow patterns. If you've been mistakenly learning songs, one by one, you're only exercising your ability to MEMORIZE chords --- and
that's exactly why it takes SO LONG to learn just one song.

BUT...

If you concentrate on LEARNING PATTERNS, you'll never go wrong because songs are built on repeating patterns. You should NEVER EVER have to memorize dozens of songs when they all share the same exact CHORDS, PROGRESSIONS, AND PATTERNS.

So head over to their site and let me know what you think

If you have any questions, feel free to reply.

Talk soon,




P.S. - You might find more interesting information, techniques, or resources just by clicking around on their website..


I want to remind you that many of the ideas for lessons come from those of you who contact me with questions. I encourage you to let me know what you need.

Also you can find a contact form on the site and suggest a song for a future lesson. Don't be shy. Let me know how i can help!!

I am grateful for all of you, and wish you the best success in your playing!!

Thanks, Greg