Hello Friends!


Learn "Have Yourself a Merry Little Christmas"
Greetings friends and fellow musicians!!
Thanks to all of you for supporting and visiting piano lessons for life.com.
Learn the Christmas Classic "Have Yourself a Merry Little Christmas"
Its that time of year. The holiday season is a time when the air is filled with some of the most beloved music and its time to get started learning some of the best songs.
The heart warming Christmas song Have Yourself A Merry Little Christmas was immortalized by Judy Garland when she sang this song to Margaret O'Brien in Meet Me in St Louis and brought tears to the eyes of the audience.
The lyricist for Have Yourself A Merry Little Christmas was Ralph Blane and the haunting music was composed by Hugh Martin. The song Have Yourself A Merry Little Christmas was first published in 1943. For the complete lesson and video tutorial click the link below.
---
Learn Have Yourself a Merry Little Christmas
---
Give the gift of music! Best Ply by Ear Method
Play piano without having to rely solely on sheet music or chord symbols.

Be able to hum a tune, then immediately play it on the piano in a few minutes.

Be able to hear something on the radio or on a favorite album and immediately understand what's happening in the song without being at a piano. Play in a band with other musicians who play by ear and be able to follow along and improvise when the time is right.

Play at church, accompany quartets or singing groups, and perform at special occasions without any fear or hesitation.

Learn music at a comfortable pace without being forced to pay a teacher $30-$50 or more per hour.

Does any of this sound good to you? Great!! Click Here!
Great Christmas Gift for you or your favorite musician!!
"New Revolutionary Software Makes Learning Songs Easier and Faster Than Ever Before!"
I've got to tell you I was truly impressed by this new software and you would do well to check out the worlds first internet powered song learning software. If you can find a song on Google or anywhere on the internet this software will teach you from beginning to end.
I have personally tried this and so have many of my more serious students. Its like having me there as a teacher 24/7..
Check this out for yourself by clicking the link below..
---
---
The major scale: The foundation of Chord Theory.
An understanding of music scales and the major scale in particular is one of the most important single concepts to understand as we continue to study the basic music theory required to get the most out of your experience playing piano or electronic keyboards.
To learn chords by memorizing each note or looking at pictures is like learning speak and foreign language with out understanding the meanings or context of the words.
By learning a few formulas starting with the formula for a Major scale you will not only speak the language of music but truly understand the how and why of chords and chord progressions.
---
Major Scales: the foundation to chord theory
---
First two Adult Piano Lessons
Our website is geared toward those who want to learn the language of music and to develop their ears and improvisational skills.
To this end I will be busy giving my best attempt at a series of guided video lessons that will start with the very basics and lead to the eventual goal of every teacher to "not be needed anymore"
I will also be redoing many of the video tutorials to make them more understandable and comprehensive as well as adding many new song tutorials in various genres of music.
Your comments and suggestions are helping greatly in the development of this new curriculum. thank you so much!!
First Adult Piano Lessons
Piano Lessons for life .com contains dozens of great lessons on keyboard theory and learning to play the keyboard by ear.
To the beginner however it may be difficult to know where to start or what to do next.
To remedy this I am adding a series of adult piano lessons that will take the beginner through what I believe to be the most important skills and concepts you will need to become a well rounded keyboard artist!
Learning to play the piano is one thing and learning to understand what you are playing is the key to being an "ear player" and separates the player from the musician.
These lessons are designed to do both!!
By following the links in these lessons and taking all the time you need to digest the material it is my hope that you will get to the point where you can teach yourself!!
Get started by trying the first two lessons below.
---
---
Adult piano lesson two fundamentals
---
Piano Improvisation starts here!
Have you ever thought: "How excellent would it be to sit at a piano and play any melody that comes into my mind – without any notes?"
Or: What do I do when my band wants me to take a Piano Solo?
Piano improvisation, is the art of spontaneously playing melodies on the piano at the spur of the moment.
You may think it is domain of few very creative, experienced, and gifted musicians and thus unreachable for hobbist musicians or beginners. However......
I believe if you read on and go through some of the suggestion contained in these lessons that you or anyone can begin to learn this awesome skill.
View the whole video lesson by clicking below.
---
---
---
---
Learn the 12 bar blues progression on piano."
Learning the 12 bar blues progression is basic to understanding the roots of American popular music.
When you see a group of musicians getting together to play everyone seems to know what to do almost magically.
This is because at one time or another they learned the 12 bar blues progression.
While there are lots of variations of this timeless progression the most common is a three chord 12 measure version explained in this lesson.
---
Dear Musician,

Have you always wanted to learn to play jazz & blues on the piano but never had the time or money?

Or couldn't find the right person or course to teach you the "real" stuff?

If so, I've definitely found someone who can help you.

I'm talking about James Wrubel, an amazing musician and expert instructor. He's been there and back as a professional jazz musician and has played with some of the top names in the industry.

In two dvds and over 2 hours of step-by-step instruction, he takes you by the hand and shows you how to master tons of jazz & blues tricks and techniques as well as signature soloing secrets that'll have you sounding like you've been playing for years.

Here's some highlights.

Discover: * How to quickly and easily form tons of chord patterns and runs that'll have you sounding pro almost overnight.

* How to accelerate your jazz learning curve by combining 3 secret elements pros don't want you to know!

* How to pack every chord and voicing with just the right amount of flavor to get the job done.

* 7 secrets to playing signature solos without hesitation or even thinking about anything.

* And much more.

Clink the link below to get started!!
Best Gospel Course for Ear players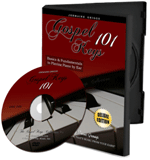 Introducing GospelKeys 101...
Now In Less Than 2 Hours, You Can Jump Start Your Piano Playing With These 3 Easy Steps!
---
Dear Friend,

Jermaine Griggs, the pioneer of the award-winning GospelKeys learning system, has come up with 3 simple steps so that you won't waste any time at all. In fact, it'll virtually cut your learning time in half! I copied and pasted the most important parts below so you can get a general idea.

HERE IT GOES...

Step One: Determining the Melody

Step Two: Harmonizing the Melody

Step Three: Adding the Bass


These three steps are not super complicated theories that require several years of experience. In fact, they were designed for the total beginner with absolutely no musical experience.

What most people don't understand is that most songs follow patterns. If you've been mistakenly learning songs, one by one, you're only exercising your ability to MEMORIZE chords --- and
that's exactly why it takes SO LONG to learn just one song.

BUT...

If you concentrate on LEARNING PATTERNS, you'll never go wrong because songs are built on repeating patterns. You should NEVER EVER have to memorize dozens of songs when they all share the same exact CHORDS, PROGRESSIONS, AND PATTERNS.

So head over to their site and let me know what you think

If you have any questions, feel free to reply.

Talk soon,




P.S. - You might find more interesting information, techniques, or resources just by clicking around on their website..


I want to remind you that many of the ideas for lessons come from those of you who contact me with questions. I encourage you to let me know what you need.

Also you can find a contact form on the site and suggest a song for a future lesson. Don't be shy. Let me know how i can help!!

I am grateful for all of you, and wish you the best success in your playing!!

Thanks, Greg