When I Think About the Lord

Piano tutorial
---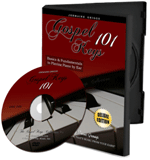 Introducing GospelKeys 101...
Now In Less Than 2 Hours, You Can Jump Start Your Piano Playing With These 3 Easy Steps!
---
Dear Friend,

Jermaine Griggs, the pioneer of the award-winning GospelKeys learning system, has come up with 3 simple steps so that you won't waste any time at all. In fact, it'll virtually cut your learning time in half! I copied and pasted the most important parts below so you can get a general idea.

HERE IT GOES...

Step One: Determining the Melody

Step Two: Harmonizing the Melody

Step Three: Adding the Bass


These three steps are not super complicated theories that require several years of experience. In fact, they were designed for the total beginner with absolutely no musical experience.

What most people don't understand is that most songs follow patterns. If you've been mistakenly learning songs, one by one, you're only exercising your ability to MEMORIZE chords --- and
that's exactly why it takes SO LONG to learn just one song.

BUT...

If you concentrate on LEARNING PATTERNS, you'll never go wrong because songs are built on repeating patterns. You should NEVER EVER have to memorize dozens of songs when they all share the same exact CHORDS, PROGRESSIONS, AND PATTERNS.
So head over to their site and let me know what you think
If you have any questions, feel free to reply.
Talk soon,



P.S. - You might find more interesting information, techniques, or resources just by clicking around on their website..

When I think About the Lord is a beautiful and inspiring song that I hope you will enjoy learning. In this song we will get to reinforce some concepts such as slash/chords, the 2-5-1 progression, extended chords and modulation/transposition.

Custom Search
By learning this song, not only will you have added a great new tune to your praise and worship song list but you will re-enforce some valuable keyboard and theory skills as well.
If you are accompanying a singer or singing this yourself this lesson will give you a feel for how to successfully and easily play a great sounding chord foundation.

If you, like me are a "ear player" you know the first step is listening to the song while paying special attention to how the keyboard parts are played
The object is not to get every note and rhythmic nuance exactly but more to listen to the root motion (Bass part ) and the general feel of the part.
The video below is a good representation of a typical arrangement.

Concepts used in this song.
Slash Chords:
Slash chords i.e.  Bb/D, F/A etc., are chords that indicate a different bass, root note or inversion of a particular chord. For more information on slash chords you can review the lesson on slash chords.
The ii, V, I chord progression.
This song, like many others you will encounter frequently uses the 2,5,1, root motion. Because this motion is so common you may want to check out the lesson on Common Chord Progressions for a more in depth explanation and helpful finger exercises.

Diatonic Chords.
Diatonic chords are those chords that are naturally related to a given key. They are built on the seven notes of the major scale which is also called a diatonic scale.
"When I think About the Lord' uses only diatonic chords in this particular arrangement, in the keys of Eb and F major. For more help check out the free lesson on Diatonic chords.
Transposition/Modulation
In music transposition refers to the process, or operation, of moving a collection of notes  up or down in pitch by a constant interval.
The main reason that you might have for doing this it to accompany yourself or others when a particular song is in a difficult key to sing, either too high or too low.
Modulations happen often in popular music and often at emotional intensity and variety to repetitive chord progressions often found in contemporary worship music. "When I think about the Lord" is a good example of this usage.

For the most part if you are an aspiring ear player you will be looking to find what chords you should be playing in the new key.
The process of transposing music for this reason is not at all that difficult but as with everything it will take a little knowledge and practice.
For more help with this concept check out the free lesson on transposing music.

The chord chart below gives you the harmonic outline of the song in the keys of Eb and F major.
In the video below you can see how you might approach these chords in a simple manner and possibly expand that knowledge to your own skill level and taste.

Best Home Study for "Ear Players"
After checking out dozens of home study courses that teach you to play by ear and focus on chord progressions I am convinced that the folks at Hear and Play have the best, most well rounded program available for just about all styles of music from Gospel to Jazz. Read my review or visit Hear and Play for more information.

Contact me
If you have any questions, suggestions, or ideas for future lessons feel free to Contact Me.

from When I think about the Lord to Piano Songs
To free piano lessons for Life HOME

© Copyright piano-lessons-for-life.com