Piano Melody..

some hints on creating great melodies
---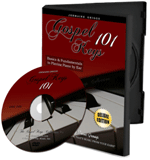 Introducing GospelKeys 101...
Now In Less Than 2 Hours, You Can Jump Start Your Piano Playing With These 3 Easy Steps!
---
Dear Friend,

Jermaine Griggs, the pioneer of the award-winning GospelKeys learning system, has come up with 3 simple steps so that you won't waste any time at all. In fact, it'll virtually cut your learning time in half! I copied and pasted the most important parts below so you can get a general idea.

HERE IT GOES...

Step One: Determining the Melody

Step Two: Harmonizing the Melody

Step Three: Adding the Bass


These three steps are not super complicated theories that require several years of experience. In fact, they were designed for the total beginner with absolutely no musical experience.

What most people don't understand is that most songs follow patterns. If you've been mistakenly learning songs, one by one, you're only exercising your ability to MEMORIZE chords --- and
that's exactly why it takes SO LONG to learn just one song.

BUT...

If you concentrate on LEARNING PATTERNS, you'll never go wrong because songs are built on repeating patterns. You should NEVER EVER have to memorize dozens of songs when they all share the same exact CHORDS, PROGRESSIONS, AND PATTERNS.
So head over to their site and let me know what you think
If you have any questions, feel free to reply.
Talk soon,



P.S. - You might find more interesting information, techniques, or resources just by clicking around on their website..

Along with the lyrics of a song the piano melody is the musical statement that defines the song and make it different from every other song.

Songs will share chord progressions and in fact they often do but the  melody is the thing that sets one song apart from another.

So how do we create great a  sounding and memorable piano melody?


Custom Search
Piano melodies and improvisation.
Most of what I can tell you about melodies on the piano comes from experience.
I have learned to play, sing, and compose hundreds if not thousands of melodies over the years.
In music school we had special classes in which we would analyze different melodies note by note to determine the relationship of the notes to the chord changes or progressions.
All Piano melodies start out as some sort of improvisation, sometimes on an instrument like the keyboard or in the case of many popular songs as a vocal sung using a specific lyric idea.
The art of improvisation is as old as music itself. It certainly existed before any notation was used for composition.
Improvisation can be viewed as instantaneous, real time composition.
It is also in my opinion, the most fun you can have at the keyboard. Improvisation allows you to experience musical freedom and express emotion and creativity in real time.
If you want to explore improvisation a bit more you may want to visit the lesson on pentatonic scale patterns. You may find it helpful in developing great sounding melodies.

In the past, most composers, especially keyboard players, were great improvisers.
Bach, Beethoven and Liszt were famous in this type of exercise, and improvisation was a popular kind of encore in some concerts.
Once an initial improvisation is written in stone, either on paper or recorded then it becomes a melody, in that it can be repeated and memorized.
Beethoven's Ode to Joy most likely was initially an improvisation and is now one of the worlds most recognizable simple but elegant melodies.

Simple melodies have some things in common.
Most simple melodies will use notes directly related to the scale of the key (scale tones ) or those notes that are part of the underlying chords (chord tones).
These notes stand out to average listeners as easily recognizable and easy to remember.
That is why simple melodies are always used in corporate jingles and quite often in Hymns where it is important that the melody be easily remembered.

Notice that in Ode to Joy the melody starts on the third of the C major scale and ends on the tonic note C.
The first 16 measures use only the first 5 notes of the C major scale.
Check out the video below for more help on creating simple melodies.

More on Song Melodies.
Moving to another simple sentimental and well know melody we will look at Londonderry Aire ("Danny Boy) which offers more hints as to what makes up great melodies at the piano.
Best Home Study for "Ear Players"
After checking out dozens of home study courses that teach you to play by ear and focus on chord progressions I am convinced that the folks at Hear and Play have the best, most well rounded program available for just about all styles of music from Gospel to Jazz. Read my review or visit Hear and Play for more information.

Contact me
If you have any questions, suggestions, or ideas for future lessons feel free to Contact Me.

from Piano Melody to free Piano lessons for Life HOME

© Copyright piano-lessons-for-life.com