More piano chord progressions you need to know.
This lesson on common piano chord progressions looks at more widely used chord progressions and offers exercises that will help you gain the finger dexterity and chord knowledge that will enhance your playing.
---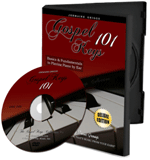 Introducing GospelKeys 101...
Now In Less Than 2 Hours, You Can Jump Start Your Piano Playing With These 3 Easy Steps!
---
Dear Friend,

Jermaine Griggs, the pioneer of the award-winning GospelKeys learning system, has come up with 3 simple steps so that you won't waste any time at all. In fact, it'll virtually cut your learning time in half! I copied and pasted the most important parts below so you can get a general idea.

HERE IT GOES...

Step One: Determining the Melody

Step Two: Harmonizing the Melody

Step Three: Adding the Bass


These three steps are not super complicated theories that require several years of experience. In fact, they were designed for the total beginner with absolutely no musical experience.

What most people don't understand is that most songs follow patterns. If you've been mistakenly learning songs, one by one, you're only exercising your ability to MEMORIZE chords --- and
that's exactly why it takes SO LONG to learn just one song.

BUT...

If you concentrate on LEARNING PATTERNS, you'll never go wrong because songs are built on repeating patterns. You should NEVER EVER have to memorize dozens of songs when they all share the same exact CHORDS, PROGRESSIONS, AND PATTERNS.
So head over to their site and let me know what you think
If you have any questions, feel free to reply.
Talk soon,



P.S. - You might find more interesting information, techniques, or resources just by clicking around on their website..

Custom Search
The I, vii, ii, V progression.
This piano chord progression is used in literally hundreds of songs.
This progression was used by American vocal groups of the 1940s, The Ink Spots and The Mills Brothers ("Till Then"), and then later became the basis of the 1950s doo-wop sound, in songs such as The Monotones' "The Book of Love".
Sometimes called the "50's" progression it was heard quite often in the 50's Do Whop era with songs like Blue Moon, You Send Me, Since I fell for you and many others.
Later on in the Sixties this piano chord progression gave way to hits like "All I Have to Do Is Dream", for The Everly Brothers, The Paris Sisters' "I Love How You Love Me" and Boris Pickett's "Monster Mash".
It was used in the refrain of The Beatles' "Girl", and formed the basis of further new songs for decades ("Every Breath You Take" by The Police, "Don't Get Me Wrong" by The Pretend to mention a couple.
Example #1.
The example below shows the I maj7, VI min7, II min7, V7, I maj7. progression in the key of C with the chords written in root position.
Example #2.
This example show how closely related these chords are. In the right hand the chord stays the same between the I and vi chord and between the ii and V chords.
By merely changing the root note we have Amin7 with an added ninth and G7 with added ninth and eleventh. Instant Hip chords!
Another helpful diatonic chord exercise.
Here is a great exercise which takes you through all the diatonic chords in the key of C twice.
I will mention again that if you will figure out these exercises in the other keys, or at least a few you will do much to increase your understanding and feel for piano keyboard and common chord motion.
Again, if you have any questions, suggestions, additions or comments about this lesson I would love to hear from you. Fill out the comment form below.
The Best Home Study Course for Learning Jazz and Blues Piano
Have you always wanted to learn to play jazz & blues on the piano but never had the time or money?
Or couldn't find the right person or course to teach you the "real" stuff?
If so, I've definitely found someone who can help you.
I'm talking about James Wrubel, an amazing musician and expert instructor. He's been there and back as a professional jazz musician and has played with some of the top names in the industry.
In two dvds and over 2 hours of step-by-step instruction, he takes you by the hand and shows you how to master tons of jazz & blues tricks and techniques as well as signature soloing secrets that'll have you sounding like you've been playing for years.
Here's some highlights.
Discover: * How to quickly and easily form tons of chord patterns and runs that'll have you sounding pro almost overnight.
* How to accelerate your jazz learning curve by combining 3 secret elements pros don't want you to know!
* How to pack every chord and voicing with just the right amount of flavor to get the job done.
* 7 secrets to playing signature solos without hesitation or even thinking about anything.
* And much more.
Check out the ink below for more information on this great program
Contact me
If you have any questions, suggestions, or ideas for future lessons feel free to Contact Me.

More great chord progressions and voice leading.
Master more widely used chord progressions and learn the smoothest way to move through the changes using voice leading. Clink the link below!
more chord progressions and voice leading