Korg PA3x tutorial:
real time arranging
---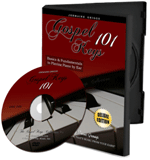 Introducing GospelKeys 101...
Now In Less Than 2 Hours, You Can Jump Start Your Piano Playing With These 3 Easy Steps!
---
Dear Friend,

Jermaine Griggs, the pioneer of the award-winning GospelKeys learning system, has come up with 3 simple steps so that you won't waste any time at all. In fact, it'll virtually cut your learning time in half! I copied and pasted the most important parts below so you can get a general idea.

HERE IT GOES...

Step One: Determining the Melody

Step Two: Harmonizing the Melody

Step Three: Adding the Bass


These three steps are not super complicated theories that require several years of experience. In fact, they were designed for the total beginner with absolutely no musical experience.

What most people don't understand is that most songs follow patterns. If you've been mistakenly learning songs, one by one, you're only exercising your ability to MEMORIZE chords --- and
that's exactly why it takes SO LONG to learn just one song.

BUT...

If you concentrate on LEARNING PATTERNS, you'll never go wrong because songs are built on repeating patterns. You should NEVER EVER have to memorize dozens of songs when they all share the same exact CHORDS, PROGRESSIONS, AND PATTERNS.
So head over to their site and let me know what you think
If you have any questions, feel free to reply.
Talk soon,



P.S. - You might find more interesting information, techniques, or resources just by clicking around on their website..

In this Korg PA3x tutoiral on real time arranging I will review some of the basic features you can use in real time to make interesting arrangements of your songs. This tutorial will cover the Intros',  pattern variations, fillins, manual bass, and the pads.
---
"New Revolutionary Software Makes Learning Songs Easier and Faster Than Ever Before!"
Many of my student at all levels and benefiting and praising this new internet based software which allows them to see, hear, and play any song from the internet in any key and at a comfortable learning speed.
The All-New Song Tutor: Internet-Powered Song Learning Software
---
Korg Pa3x tutoiral: Real Time Arranging
One of the big advantages to having an arranger keyboard is the ability to, in a relatively short time, select a musical pattern and while playing in real time add intros, variations, fillins, and more.
Using these features you can play for as long as you want as opposed to a midi sequence that has a set beginning and ending.
This is particularly useful in the church praise and worship setting where the worship leader may feel led to continue the song, change keys, repeat choruses  ect. on the fly.
Korg PA3x tutorial: real time features
In the video below I will demonstrate some of the real-time features I would use in a song like Dance Like David Danced.
The features covered are:
Intros':
The Korg Pa3x has three intros for all the installed factory patterns.
Intro 1, is a highly arranged introduction many time 8 measures long. Some are useful and some are not. You will have to experiment to see if they are to you liking.
Intro 2, uses no set chord changes allowing you to use your own and is usually 4 measures long.
Intro 3, Strait ahead 1 measure count in.
Variations:
There are 4 variations ranging from simple to complex to add changes for verses, choruses and bridges.
Fill-ins
The 4 fill-ins are like the variations in that they get a lilttle more complex as you go from 1 to 4
Manual Bass:
Allows you to instantly split the keyboard and take over playing the bass with you left hand. Can be real handy..
Pads:
Allow you to add a large variety of percussion, orchestral fills, and special effects to your song in real time. I use these pads quite a lot.
Endings:
The endings are like the Introductions in that they range from complex to a simple one measure and out ending.
The video below will go through these features one by one and demonstrate how you might use them to vary your performances in real time and on the fly.. ENJOY!!
If you have any questions about this tutorial or suggestions or questions about other features on this or any keyboard please contact me using the link below... Love to hear from you!!
from Korg PA3x tutorial to Piano Lessons for Life Home page
Contact me
If you have any questions, suggestions, or ideas for future lessons feel free to Contact Me.

© Copyright piano-lessons-for-life.com