Hear and Play review.
Can you really Play by Ear?

---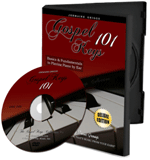 Introducing GospelKeys 101...
Now In Less Than 2 Hours, You Can Jump Start Your Piano Playing With These 3 Easy Steps!
---
Dear Friend,

Jermaine Griggs, the pioneer of the award-winning GospelKeys learning system, has come up with 3 simple steps so that you won't waste any time at all. In fact, it'll virtually cut your learning time in half! I copied and pasted the most important parts below so you can get a general idea.

HERE IT GOES...

Step One: Determining the Melody

Step Two: Harmonizing the Melody

Step Three: Adding the Bass


These three steps are not super complicated theories that require several years of experience. In fact, they were designed for the total beginner with absolutely no musical experience.

What most people don't understand is that most songs follow patterns. If you've been mistakenly learning songs, one by one, you're only exercising your ability to MEMORIZE chords --- and
that's exactly why it takes SO LONG to learn just one song.

BUT...

If you concentrate on LEARNING PATTERNS, you'll never go wrong because songs are built on repeating patterns. You should NEVER EVER have to memorize dozens of songs when they all share the same exact CHORDS, PROGRESSIONS, AND PATTERNS.
So head over to their site and let me know what you think
If you have any questions, feel free to reply.
Talk soon,



P.S. - You might find more interesting information, techniques, or resources just by clicking around on their website..

"If you can hear it, you can play it".
Hear and Play review

That is the claim of Jermaine Griggs the founder of Hear and Play. I happen to agree because I used many of the techniques you will find in this piano lesson program to do just that!

The ability to play anything by ear within minutes and learn any song without sheet music is attainable for most people by using this program.
You can choose between jazz, rock, hip hop, salsa and blues but the biggest emphasis is on gospel stylings and accompaniments.

Custom Search
Hear and Play review cont.
The main part of the course is an ebook, Secrets to Playing Piano by Ear. It starts with learning to find a melody to adding harmony and chords.

It then progresses through chord variations, hearing chord progressions, transposing and improvization.

I learned these skills when I was young because I wanted to play keyboards in a band.
We listened to records over and over again to pick out melodies and chords. That was before there was any such thing as online piano courses or the internet for that matter.
There are many Bonus programs included in the course such as ear training and pitch perfecting. Also tons of quizzes and interactive exercises with video and audio examples.

You will learn a lot about basic scales, modulations, chord methods, and sight reading. I particularly liked the lessons on chord substitutions and complex progressions.
If you already play some and have a good idea of where you want to go with your playing there is a lot to offer.

What you will not get in this program are lessons based on classical music fundamentals or proper playing technique like hand positions and movement.

Also if you are an absolute beginner you may find all the choices a bit overwhelming because of the depth of different improvisational lessons offered with many different packages or plans.

There is free access to most of the music sharing and networking sites, including piano monthly newsletters.
You can also upload your video or audio clips for sharing and comments. The online lesson videos are lower in quality, blurred and grainy, but the software options offer clearer visuals and audio.


You will want to be able to set up your keyboard so that you can easily view your monitor at the same time. It will help you be much more successful in getting the most from this program

Students can email questions to Hear and Play or post them in the chat forums. A weekly chat schedule is posted for users to log in and ask questions.
Dear Fellow Musician,

What if you could lock yourself in a room and get 4.5 hours of
ministry-focused instruction from the man behind many of your
favorite gospel albums?

Would that excite you?

Well, you're definitely in luck! Because I've found a resource
that'll uncover tons of contemporary gospel secrets from one of
the baddest gospel musicians in the industry today, Mr. Jason
White!

You'll get the opportunity to learn flavorful approaches,
chords, movements, patterns, "licks & tricks," and real songs
from Jason White, but not only that...

You'll learn the music ministry side of things too. This isn't
just for someone who wants to steal a bunch of chords and sound
good, although you'll get dozens upon dozens of chords and will
certainly sound 10 times better after devouring this course.
This is deeper than that though.
To learn more, click the link below:

                                Gospel Keys Ministry


Contact me
If you have any questions, suggestions, or ideas for future lessons feel free to Contact Me.

From Hear and Play review to Piano Software
From Hear and Play to Free Piano Lessons For Life HOME

© Copyright piano-lessons-for-life.com