Break Every Chain tutorial
"Break Every Chain" is a song performed by American recording artist Tasha Cobbs from her major-label debut studio album Grace (2013). The song was composed by Will Reagan, produced by VaShawn Mitchell and released as the album's lead single. The songs features guest vocals performed by Timiney Figueroa from Hezekiah Walker's Love Fellowship Crusade Choir.
---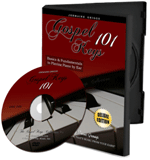 Introducing GospelKeys 101...
Now In Less Than 2 Hours, You Can Jump Start Your Piano Playing With These 3 Easy Steps!
---
Dear Friend,

Jermaine Griggs, the pioneer of the award-winning GospelKeys learning system, has come up with 3 simple steps so that you won't waste any time at all. In fact, it'll virtually cut your learning time in half! I copied and pasted the most important parts below so you can get a general idea.

HERE IT GOES...

Step One: Determining the Melody

Step Two: Harmonizing the Melody

Step Three: Adding the Bass


These three steps are not super complicated theories that require several years of experience. In fact, they were designed for the total beginner with absolutely no musical experience.

What most people don't understand is that most songs follow patterns. If you've been mistakenly learning songs, one by one, you're only exercising your ability to MEMORIZE chords --- and
that's exactly why it takes SO LONG to learn just one song.

BUT...

If you concentrate on LEARNING PATTERNS, you'll never go wrong because songs are built on repeating patterns. You should NEVER EVER have to memorize dozens of songs when they all share the same exact CHORDS, PROGRESSIONS, AND PATTERNS.
So head over to their site and let me know what you think
If you have any questions, feel free to reply.
Talk soon,



P.S. - You might find more interesting information, techniques, or resources just by clicking around on their website..

---
"Break Every Chain" was originally written and performed by Will Reagan and the United Pursuit Band in 2009. The song was later covered by Jesus Culture in 2011. However, Tasha Cobb's interpretation of the song is the first commercially successful and accepted within the gospel community, of the trio.
Break Every Chain tutorial
This inspirational song uses one of the most common 4 chord progressions found in popular music. vim - IV - I - V. These 4 chords are derived from the diatonic chords in the Key of A maj. as performed by Tasha Cobb. F#m - D - A - E. The progression repeats from the beginning to the end of the song without variation.
Learning about diatonic chords is fundamental to playing popular music especially if you are learning to play by ear. If you do not yet know about diatonic chords click the link below for a great free lesson.
Once you have this common chord progression under your fingers in a variety of keys you will find you can play literally hundreds of popular songs. To expand your knowledge of popular chord progressions check out this lesson by clicking the link below
Dear Fellow Musician,

What if you could lock yourself in a room and get 4.5 hours of
ministry-focused instruction from the man behind many of your
favorite gospel albums?

Would that excite you?

Well, you're definitely in luck! Because I've found a resource
that'll uncover tons of contemporary gospel secrets from one of
the baddest gospel musicians in the industry today, Mr. Jason
White!

You'll get the opportunity to learn flavorful approaches,
chords, movements, patterns, "licks & tricks," and real songs
from Jason White, but not only that...

You'll learn the music ministry side of things too. This isn't
just for someone who wants to steal a bunch of chords and sound
good, although you'll get dozens upon dozens of chords and will
certainly sound 10 times better after devouring this course.
This is deeper than that though.
To learn more, click the link below:

                                Gospel Keys Ministry


from Break Every Chain to HOME